Well known for his dark humour he is a favorite amongst many comedy lovers, and hated by others for being offensive! Nothing is off limits for this comedian, covering all sections of society. Take him as he is Frankie Boyle will never change his style of routine or nature of gag.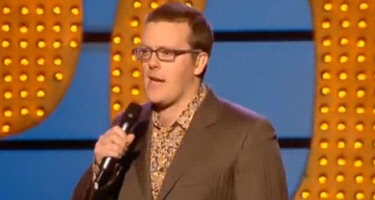 Some Of Frankies Most Famous Quotes
"I watched the footage of Saddam being executed, and it really made me think…is there nothing on the internet that I won't masturbate to?"
"Let me ask you a question. How long is too long to text somebody back? My wife still thinks I died in 9/11."
"Someone told me I look like one of the Proclaimers. One of them?! They're twins you daft bastard!"
(about the Queen) "I have had a few medical issues this year, I'm now so old that my pussy is haunted."
"I would have loved to have had a gay dad. At school, there were always kids saying 'my dad is bigger than your dad, my dad will batter your dad!' So what? My dad will shag your dad..and your dad will enjoy it."
"The only time I want to see Geri Halliwell draped in the Union Jack is if she is a casualty of war."
(about Rebecca Adlington) "She looks like someone who's looking at themselves in the back of a spoon."
"I lost my virginity to my mum's best friend. It was my dad. It was the only time he told me he loved me!"
And here is a clip showing the comedian at his most offensive:

Explanation of some of the jokes in the video:
Lots of people (in YouTube comments) don't seem to get some of the jokes. The first joke about Batman is because the 'Joker' was played by the actor Heath Ledger who died in 2008, hence the joke that he won't be back.
The Diana minefield gag is because Diana was well famed for her charity work in third world countries, but also the rumours she cheated on Prince Charles a few times, hence the gangbang part.
On TV
You can no longer see Frankie on new episodes of Mock The Week. But on a variety of Sky & Virgin TV channels you can see repeats of him in that and other shows he has appeared in such as; Never Mind The Buzzcocks, 8 Out of 10 Cats and Have I Got News For You.
Last Updated: