Did you know that fat men, women and children do the funniest things. To prove it here is a collection of videos which will make you laugh.
So without further ado, take your strong hand and click the play buttons below.
Exercise! Clearly this big girl needs to keep it up.

Sexy time. Imagine coming home to this lovely lady every night.

Elegance. Just because you're a bit plump doesn't mean elegant diving isn't possible.

That hurts. Take a bike, a ramp and a fat kid = good result.

Take 2. Another bike, another ramp, another fatty, you get the picture!

Shooter. Finally, let's just watch a fat guy shoot a gun! I don't think this guy could look more American if he tried.

We hope you enjoyed the videos above if you felt a bit self-conscious whilst watching just make sure no-one ever videos you, or cut out the cupcakes, your choice chubby. Don't forget to send this giggle material to your friends/followers! If you want to post your opinion you can do so now in the form section below.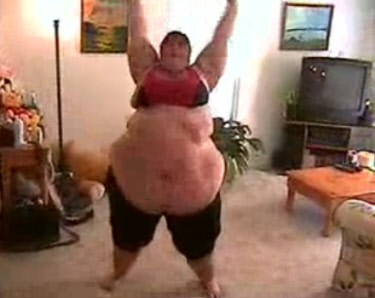 For this funny fat people article we needed an image, so here is a screenshot from the first video, don't stare at it for too long!
Last Updated: