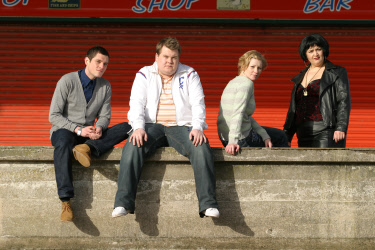 After 3 short series the amazingly funny BBC comedy, Gavin & Stacey, was brought to an end on News Year Day 2010, but don't let that stop you having a right crackin' laugh at the show still!
Thankfully, it's been announced there'll be a brand spanking new Christmas Special in 2019. Let's hope it's amazing!
If you want to watch them all again check your favourite on-demand service to see if they're listed. If not you can still buy the DVDs at a very cheap price.
In our other Gavin & Stacey page we made an amazing collection of episode quotes. Now let's relive that amazing theme tune!
All-round it was a top program, including a cool theme tune and excellent cast put together by James Corden and Ruth Jones. Here is the song used, and below that the main actors who acted in the series.
It was always a great feeling when the song kicked in, with the lyrics, "Tell me tomorrow I'll wait by the window for you." If you want to get the full song on your Spotify, Apple Music or whatever service you use, it's titled "Run" and is by Stephen Fretwell.
Characters From The Show
Gavin – Mathew Horne
Stacey – Joanna Page
Smithy – James Corden
Nessa – Ruth Jones
Bryn – Rob Brydon
Gwen – Melanie Walters
Mick – Larry Lamb
Pam – Alison Steadman
Dave Coach – Steffan Rhodri
Dawn – Julia Davis
Pete – Adrian Scarborough
And of course there is Owain Hughes (and do you?), played by Steven Meo.
Without doubt one of the best British comedies ever. What a fantastic group of characters, beautifully written scripts and fantastic settings! Long may it live on in all our memories.