The veteran comedian is back once again with yet another release, this one is called 'Cornish Ambassador'. The release date is November 14th 2011, just in time for Christmas. It is available to order from all good online retailers and you can also buy it on the high-street.
So is it any good? And up to the usual Jethro standards?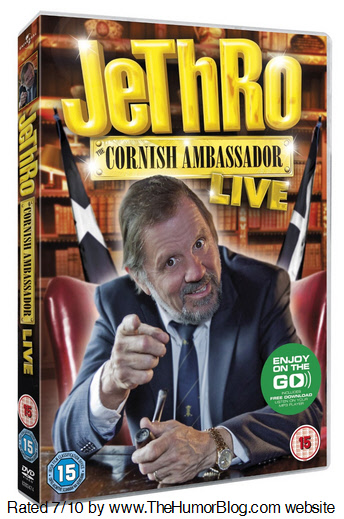 The gig starts off in very typical fashion, with a filthy joke, involving his testicles and a female nurse. Typical Jethro! No mucking about, straight in with the smut.
The DVD is broken up with Interludes of Jethro reading out funny letters. I like the format as it breaks up the gig and makes it feel like it all goes so quick.
The gags throughout the DVD are as you'd expect, a lot of smut and sleaze, often involving his wife. It is all very similar to his previous work, same style, topics, and wording. Although the jokes I hadn't heard before, they are similar to past ones. But I guess this is what happens when you have released over 20 stand-up DVDs!
The show finishes off with Jethro singing a nice Cornwall song, living up to the title of the tour.
This was up there as possibly the best I've seen of Jethro. Admittedly I've not seen all of his performances (so many to watch!!), I know he has a lot of DVDs so I can't say this is his best work, as I'm not in a position to compare them all, but of what I've seen this was by far my favourite gig of his. I had a lot of 'laugh out loud' moments, rather than just chuckles.
Unfortunately, it is only just over an hour-long, which I found disappointing, would have like to have seen closer to 90minutes. I guess they do say always leave them wanting more. The extras are also thin on the ground, there is one called 'Classic Camborne' which is just Jethro listening to some of his past work on an old-style radio, and also some bloopers. But that's it.
Due to its shortness and lack of features I can only give it 7/10 overall, but the actual gig will have you in stitches.
If you're a loyal Jethro fan this is another must to add to the collection.
Official release date: November 14th, 2011
Studio: Universal Pictures UK