To celebrate the release of Meet The Parents: Little Fockers (at cinemas December 22, cert TBC) we are offering you the chance to win one of 10 Meet The Parents: Little Fockers mousemats and t-shirts.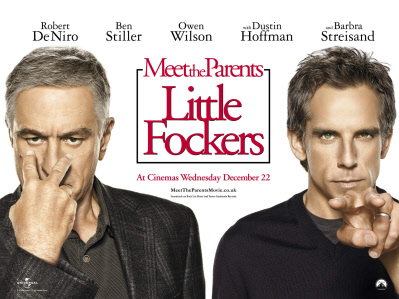 The test of wills between Jack Byrnes (Robert De Niro) and Greg Focker (Ben Stiller) escalates to new heights of comedy in the third instalment of the blockbuster series—Little Fockers. Laura Dern, Jessica Alba and Harvey Keitel join the returning all-star cast for a new chapter of the worldwide hit franchise.
It has taken 10 years, two little Fockers with wife Pam (Polo) and countless hurdles for Greg to finally get "in" with his tightly wound father-in-law, Jack.  After the cash-strapped dad takes a job moonlighting for a drug company, however, Jack's suspicions about his favourite male nurse come roaring back.
When Greg and Pam's entire clan—including Pam's lovelorn ex, Kevin (Owen Wilson)—descends for the twins' birthday party, Greg must prove to the sceptical Jack that he's fully capable as the man of the house.  But with all the misunderstandings, spying and covert missions, will Greg pass Jack's final test and become the family's next patriarch…or will the circle of trust be broken for good?
© 2010 DW STUDIOS L. L. C. and Universal Studios.
Details + Entry Form
Competition date: December 6th – December 22nd 2010.
Entries: One entry per person, must be over 18, UK only.
[contact-form 1 "Contact form 1"]
*to increase your chance of winning, once entered leave a comment below of why you should win – it doubles your chance of being the winner!
---
Please note: once the competition has ended and the winners have been chosen all email addresses will be completely deleted, NOT stored, sold or in any way used. We require your email simply to notify a winner.