Time for some immature filth! Here is a big fat list of different funny words for poo, if you find this sort of thing funny you should definitely use them round your friends, or even better embarrass your mum with them. Or when your dog drops one off in the park, like this geezer is doing.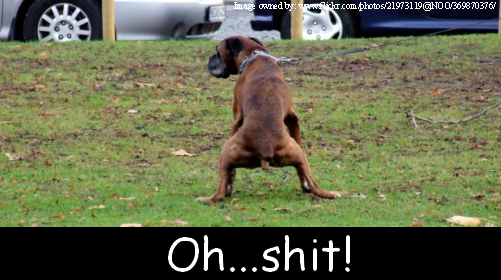 Dump
Floater
Pebbledash
Drop the kids off at the pool
Brown boat
Number 2
Dingleberries
Shit brick
Chocolate log
Turd
Dirty bomb
Muddy snake
Mr Hankey
Bum fish
Pink eye pellets
Anal butter
Chocolate frube
Loaf
Smoked ham
Black banana
Excretion
Bum squirrel
Poop
Coco pops
Sprout wagon
King kongs fingers
Chocolate Mr Whippy
Turtle tail
Never be afraid of going to the toilet, especially in public or when family are round your house. Go the toilet, drop off the muddy fairy with a few loud squeals, and be proud of your achievement. Unless it doesn't flush, then good luck with that.
Know of any we have missed? You can throw them in the comments section below and we can add them in.
Credit for the photograph goes to Fabian Bromann from Flickr, impressive photography skills.
Share with someone who'd like this!