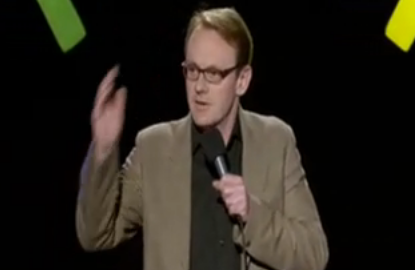 Sean Lock was a brilliant British comedian who sadly died at the age of 58 in 2021. Here we celebrate his brilliance with a handful of quotes and some videos of him performing. Most people knew Sean from "8 Out of 10 Cats," and "TV Heaven Telly Hell," but he also did radio shows and sell-out stand up tours.
Jokes by Sean Lock
"Interesting fact: a shark will only attack you if you're wet."
"A bit of advice: never read a pop-up book about giraffes."
"The hardest job I ever had was doing the horoscopes for the Big Issue."
"I started doing panel shows, and I found that people liked me on them. They're fun. They're well paid. And you don't have to spend six months writing them."
"How do you get a fat bird into bed? Piece of cake."
"I drive a carnival float with a full steel band on the back. The reason I got it was because I keep getting my bloody stereo nicked."
"They say that political correctness has gone mad. I think that might be true actually because I was at the zoo the other day and I got told off. I said 'look there's a mongoose'. Can't say that any more. 'Special needs goose' is what you've got to say! I saw a puffer fish and thought 'I'm not saying a word'!"
Video clips of Sean Lock being funny
Here are a couple of clips of Sean performing stand-up and being generally hilarious on TV.

If you keep a collection of comedy DVDs to cherish forever you'll find his DVDs available online. He was especially talented at the Deadpan style of comedy and will forever be a legend in that category.