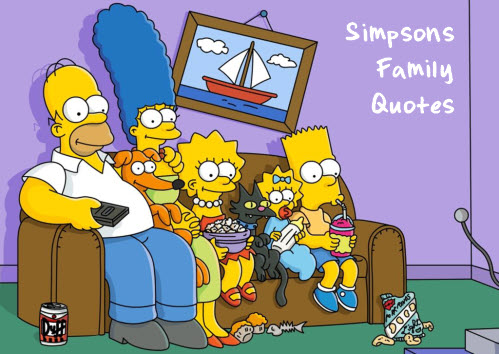 The Simpsons is a classic animated comedy created by Matt Groening for the Fox Broadcasting Company loved by kids and adults alike. It is so good many consider it one of the greatest television series of all time, which is not a statement to be made lightly.
Let's look back at some funny lines from different episodes. So far there has been over 500 episodes so as you can imagine this page doesn't quite squeeze in all the good quotes.
Funny lines by Homer and Other Characters
Homer – Maybe, just once, someone will call me 'Sir' without adding, 'You're making a scene.'
Ned – If it's tangy and brown you're in cider town.
Bart – Eat my shorts!
Marge – Homer, I don't want to leave Springfield. I've dug myself into a happy little rut here and I'm not about to hoist myself out of it.
Homer – Kill my boss? Do I dare live out the American dream?
Bart – I never thought it was humanly possible, but this both sucks and blows.
Homer – I'm in no condition to drive. Wait! I shouldn't listen to myself, I'm drunk!
Lisa – Do we have any food that wasn't brutally slaughtered?
Bart – Ay caramba!
Homer – Kids, you tried your best and you failed miserably. The lesson is, never try.
Bart – Jackpot!
More About The Simpsons Show
On December 17, 1989 Matt Groening made television history with his animated television show The Simpsons. For twenty four years now viewers have been tuning in to watch the antics of the loveable and dysfunctional Simpson family.
The Simpsons has been breaking records ever since it started with over five hundred episodes to it's credit, a full length movie, and billions of dollars worth of merchandise sold. The catchphrases from characters like Homer to the incorrigible Bart have been printed on t-shirts, boxers posters and even talking dolls. Along with the movie they have even had video games, comic books and board games made with the characters.
The show has also led to many other animated adult-oriented comedies such as Family Guy, South Park, and American Dad. It has also been controversial over the years with many people thinking that it is a bad influence on young people and it makes a mockery of family life. Some countries, such as China have went so far as to even ban the show. What The Simpsons does is show what most families are like not perfect, but real. As long as the show keeps pulling in viewers it would seem that Bart and his family are here to stay, for awhile at least.