Stand-up comedian, novelist, music journalist and director Stewart Lee was one half of the 1990s comedy duo Lee and Herring, and co-wrote and directed Jerry Springer – The Opera.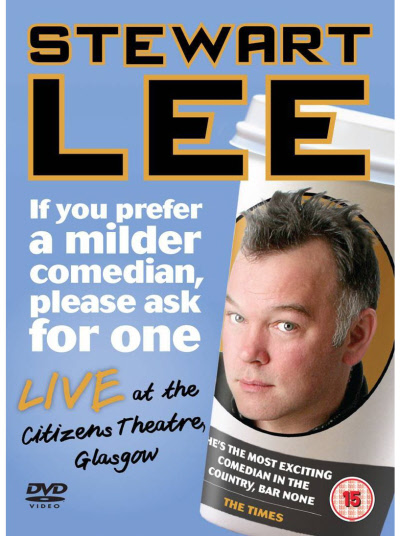 His very highly rated DVD (pictured) 'If You Prefer A Milder Comedian Please Ask For One'.
The Oxford graduate has written for newspapers, magazines, TV, and radio and performed stand-up all over the world. The Times has called him 'the comedian's comedian', and Lee has also been described as "Unflinching in his satire, unapologetic in his liberal, middle-class, highbrow appeal, and fiercely intelligent, his comedy does not pander to the masses".
Stweart Lee Quotes
It's back in the news now, the Princess Diana Memorial Fountain. People going, "It's what she would have wanted." It isn't! What Princess Diana would have wanted would have been to have not been killed.
I love Catholicism, it's my favourite form of clandestine global evil.
I remember when the last Harry Potter title came out, I think it was Harry Potter and the Crock of Shit. Or Harry Potter and the Mitten of Wool? Remember that?
Political correctness seems to me to be about an institutionalized politeness at its worst.
I've started to believe in creationism because of Professor Richard Dawkins. Because when I look at something as complex and beautiful as him, I don't think that could've evolved by chance.
(On Top Gear's Richard Hammond.) I wish he had died in that crash and that he had been decapitated and that a jagged piece of metal debris from the car had blinded him.
I may have been named 41st best stand-up, but my Mum still prefers Tom O'Connor.
Wittiest thing I've heard? Jim Tavares, when he was doing stand-up at the Comedy Store in 1988, and opened with "I'm a schizophrenic." Some wag shouted out "why don't you both fuck off?"
More info about Stewart
How I Escaped My Certain Fate: the Life and Deaths of a Stand-up Comedian, Stewart's second book, is published by Faber and Faber. If you missed Vegetable Stew, his Edinburgh show, he tours the UK this autumn before taking his show to London's Leicester Square Theatre until the end of the year. His new live DVD, If You Prefer a Milder Comedian, is out in October.