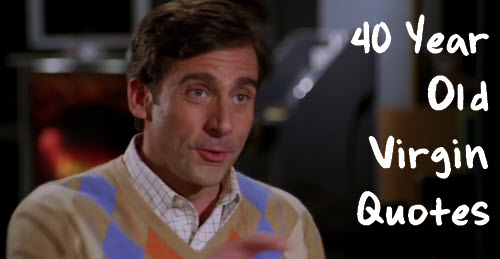 This was the first comedy film where many people fell in love with Steve Carrell as a funny actor. Here are some of the funniest quotes from the movie.
If you want to re-watch it again it is available to buy on DVD and blu-ray. Worth getting it used instead of brand new as it costs next to nothing.
Here are some really funny lines from the film.
Jay – You're putting the pussy on a pedestal.
In every man there's a code that says tackle drunk bitches.
I need some poon.
Jay – Wax that whole teen wolf thing off.
Mooj – Life is about people. It's about connections. It's not about cocks, and ass, and tits.
You know how I know you're gay? You like Coldplay.
Andy – Arr that tickles. [kicks girl in face]
Smart Tech Customer – Nigga, this dwarf here don't got to be tall to pull a trigger off in somebody face!
Jay – Why you always telling me to go fuck a goat?
Did you just flick me in the nuts?
More About The Film
If there were any reason to lose your virginity, it's easy to assume that turning 40 years old would be an acceptable reason. In the movie 40-Year-Old Virgin, Steve Carell plays the role of Andy, the man for which the movie is named. He is a socially awkward man-boy who has never "sealed the deal" with a woman. He lives alone, does not masturbate and he collects comic books and action figures.
After his co-workers – played by Paul Rudd, Seth Rogen, Romany Malco, and Jerry Bednob – figure out that Andy is still a virgin, they appoint themselves with the mission of helping him pop his man cherry. Along the way the group of men face their share of hilarious set-backs and outrageous conversations.
This comedy is a great feel-good movie that can be enjoyed with a significant other or a group of friends. If planning on watching this film with your parents, even if you are an adult, there will be cringe-worthy moments!
Altogether, 40-Year-Old Virgin is a very funny, very laughable, very hilarious movie if you are into socially awkward films. Personally, out of 5 stars I would give it a 4.4, and I will most definitely watch it again on a bored night.