Laugh Again At Funny Trollied Quotes (Sky 1 Comedy)
The first series of the program has now come to an end, but with the promise of a return next year there is more to look forward to.
In the meantime let's enjoy some of the best moments so far. Here are some good lines from different characters.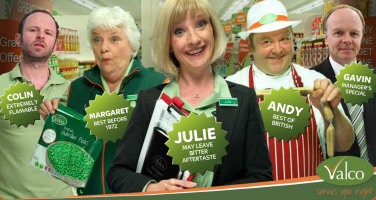 Trollied Quotes:
Margaret: My neighbour Jean, has got a Skype machine… It's sort of like a microwave, but it let's you talk to anybody anywhere on the world.
Andy: Deaf women have extra taste buds, it's a well-known fact, she wouldn't be able to get enough of my meat.
Lisa: I hate red wine I do, I had 2 bottles of it at this BBQ last week. Made me shit look like liquorice.
Margaret: Oh I'm that nervous I've got buttercups.
Leighton: I had this other dream, where I was just asleep – went on for 7 hours.
Colin: I'm just going to drop the kids off at the pool… It means I'm going for a dump.
Sue: I've gave me cousin a hand-job once, yeah, in a caravan.
Leighton: Do you think my arms have got longer?
Gavin (looking rough): I'm afraid I had more then my usual post match two halves of Speckled Hen last night.
Katie: That guy had his flies down, and that guy stunk of beans. So it's been quite an eventful morning.
Linda: That's who Dan's new girlfriend looks like (Beyonce), dead spit… Except she's taller, and fatter, and white.
Missed some of the episodes and want to catch up? If you're a Sky subscriber you may be able to watch it on Sky Go, you may have to pay to rent some episodes though.