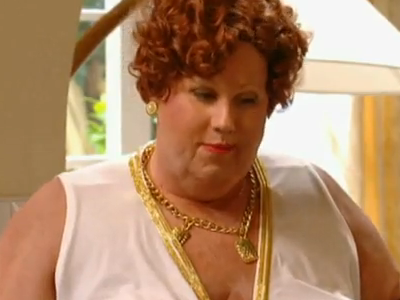 Resident (well, permanent holidaymaker) of the Hill Grange Health Spa in Trump, Mrs Bubbles Devere was a character in Little Britain known for her love of suntan beds, pleasant voice, inability to pay bills, and fuller figure when she gets naked!
In June 2020 Matt Lucas and David Walliams hit the headlines as they publicly apologised for their use of blackface in Little Britain, one of the characters of whom was the rival of Bubbles, her name was Desiree. Upon the apology going public BBC removed the show from their platforms, as did Netflix. We've decided to keep this page here for those who wish to still relive some of the quotes by this particular character, so here's a small collection of classic moments.
Bubbles was definitely one of the best characters from the Little Britain BBC series.
Catchphrases and quotes by Bubbles
"Call me Bubbles everybody does!"
"Hello darling!"
"Ha please leave. We all know what that means captain don't we; please don't leave."
"Champagne for everyone!"
"Are you a married man Mr Hutton?"
"I'm sure we can come to some sort of arrangement, Mr Hutton."
"My turn now darling."
"I have a colonic at 3."
Video clips
Here are some old videos of Bubbles in action.
This was one of many great creations by writers Matt Lucas and David Walliams. It's a shame the show will forever have a cloud over it due to the use of blackface for some characters.