A global comedian who has taken his huge UK success across the pond. He rose to fame with 'The Office' comedy sitcom and followed that up with the constantly brilliant 'Extras'. He also has live DVDs for sale including 'Animals' and 'Politics'. His latest one was called 'Science' and was released back on November 22nd in 2010. He has also been in films such as 'Ghost Town' and the very successful 'The Invention Of Lying' which had some brilliantly funny lines in it.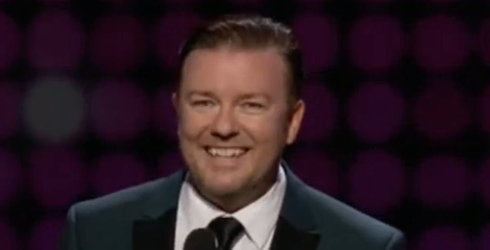 Here are some of the funniest Ricky Gervais lines. His comedy is all about feeling uncomfortable with taboo, and the way he tells his jokes and his manner is what is so funny, so here's9 very funny Ricky Gervais quotes:
"My greatest hero is Nelson Mandela……incarcerated for 25 years, he was released in 1990, he's been out about 18 years now……and he hasn't reoffended." (Out Of England)
"1st of December, World Aids Day….I don't think it'll ever take off like Christmas." (Out Of England)
"If you were to ask me to name three geniuses, I probably wouldn't say Einstein, Newton… I'd go Milligan, Cleese, Everett. Sessions." (The Office)
"I'm not from these parts. I`m from a little place called England – we used to run the world before you lot." (Golden Globe)
"Apparently, I don't know if this is true but I hope it is, I've heard it from a few reports, when we went up to get our awards apparently Clint Eastwood turned to someone that he was with and went, Who the fuck are they?"
"Ebony and Ivory. No more racism now. That one's done." (xfm)
"You're an idiot. What you think an African family wakes up and there's a little goat with a ribbon tied around it? And they go, 'Oh look what Santa brought us!'" (podcast)
"Where there's a will, there's a relative!"
"They have bits sliced off and tied up and sucked out. I want to say to them, 'You lazy f—ing fat pig. Just go for a run and stop eating burgers. You might fucking die'." (podcast)
Here's a clip for your viewing pleasure. It's the Trailer for his Science DVD.

Ricky is a top funny man and it's well worth buying his DVDs or seeing him live should you get the chance.
Have an opinion on this comedian? You can share it in the section below. He is great at polarising people, some love his stuff, others hate it. That is the way it should be and not just everybody thinking the same.