Lee Evans Quotes – Funny Jokes and Clips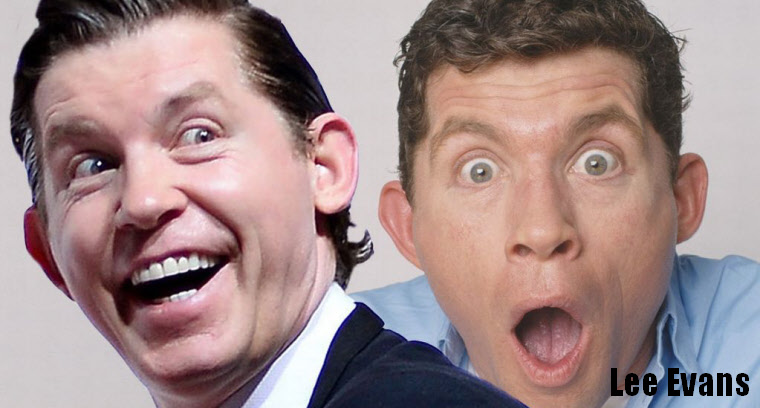 Lee Evans is a popular English stand-up comedian who rose to fame in the 1990s and has remained popular ever since. He is famed for his loud, sweaty, humorous voices, physical observational comedy and highly energetic performances.
He has released quite a few highly rated DVDs well worth buying including 'Live at the 02', the 'XL tour', and '94-05 Complete Comedy Collection', he has also appeared in various movies.
Here Are Some Of Lee's Top Gags
I like it when the waiter asks you if you want parmesan cheese on your dinner, yeah, give me essence of puke all over me tea!
I love restaurants, and that's the thing now, they always boast about now, restaurants…homemade cooking…I don't want homemade cooking, that's why I'm here! 'cos I don't like the shit at home! Yeah…you know! And they don't say whose home it is, do they! Could be a mental home, couldn't it!
(talking about fizzy drinks) Who built that machine, to let that can, filled with gas, fall that far? You know, you put in that coin and it's just like KABOOM
Peanuts! What happened to peanuts! Now every buggers allergic to peanuts! It's true, you open a packet of peanuts now, and a bunch of five-year-olds in a five-mile radius slam to the floor, jabbing themselves with fucking adrenaline!
I swear, the other day I bought a packet of peanuts, and on the packet it said "may contain nuts." Well, fucking YES! That's what I bought the buggers for! You'd be pissed off if you opened it and a socket set fell out!
I tried water polo and my horse drowned…that was a nightmare.
Have you noticed every time there is a murderer on the loose they have that advert pop up from B&Q – "this week, hatchets, half price!
The thing that my wife is into now, and it's fucking doing my head in it really is…pebbles. Pebbles! She collects them. No I dont mean ordinary pebbles, fuck it, I mean, varnished ones, in a dish! Is 'where did you go on a weekend love' 'Skimming!'
My phone will ring at 2 in the morning, and my wife'll look at me and go, 'Who's that calling at this time?' I don't fucking know! If I knew that we wouldn't need the bloody phone!
Parcelforce! Parcelforce, Parcelforce, Parcelforce, Paaaaarcelforce! We Will Get This Package To You! Fuck Off!
We got completely lost driving in, and we asked the way, yeah, why is it that when you ask for directions you always get the village-fucking-idiot!
They are some quality quotes! And to top it off here are a couple of cool videos of the man himself in action. The first is of a stand-up routine and the second one is when he announced his retirement.
DVDs
Watch back at how hilarious this mans monster sell-out arena tours were.

Want to see him live?
In November 2014 Lee announced his he will soon be retired. So depending on when you read this it may have already happened. But it is worth double checking if you do wish to see Lee on-stage doing stand-up whether there are any available tickets.
How much do you love this guy? Add your comments along with what other people have put in the section below, get involved!
Image source: flickr/mikebarry.