Funny Michael McIntyre Jokes
Michael McIntyre is a popular UK stand-up comedian. He has some great jokes, funny stories, silly floppy hair and can do a scarily good high pitch voice!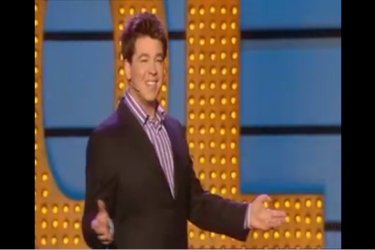 He has a couple of classic highly-rated stand-up DVDs including Live & Laughing 2008 and Hello Wembley 2009, well worth buying for the collection. Here are some funny jokes By Michael McIntyre during stand-up gigs:
Normally you have news, weather and travel…..but not on snow day, on snow day news is weather is travel. Talking about the heavy snow in Britain.
They had to ask Spain I think, they've had to say to Spain, can you lend us some stuff for the roads, and it's Gordon Brown phoning up going 'pass the salt' (says in a deep voice)
So you're mother? Nice to put a name to a face. Talking about when a baby girl is born
I'm glad Carol Vorderman has left Countdown, I mean it's not like she did much. She was effectively just an autistic shelf-stacker.
You have to come up with this shit every year. Last week I just wrote 'I still love you, see last years card for full details' Talking about Valentines Day
My wife and I both made a list of 5 people we could sleep with…she read hers out and there were no surprises…1 George Clooney…2 Brad Pitt etc…I thought 'Ive got the better deal here'…1 Your sister
I've got a little baby, I made him…He doesn't speak, he's 2…He's a slow learner, he's only got 2 words…car and map…I'm slightly worried he's trying to escape. If his next word is passport we are in serious trouble!
All we really require is 1 drawer, that is all men want, 1 drawer, this is not a drawer we will pick out early. A drawer will become available, we will tentatively enquire as to its usage, "darling this drawer here, can I have this drawer for me?"..Yes I think you can…good this will be my man drawer!!
He's a very funny guy so let's hope there is lots more quality new material from him over the coming years. Want to see more? If you want to watch his full stand up routines worth seeing him live or buying one of his popular DVDs, including Live & Laughing 2008 or Hello Wembley 2009 available from all good retailers and some rubbish ones of course.
How To Watch Michael Live
You can see his current available tour dates on the Ticketmaster website. Well worth watching live. However, be aware they can sell very fast so it is best to subscribe to updates so you don't miss out on the opportunities to see him in the flesh.