Micky Flanagan Quotes & Stand-Up Clip
With his distinctive accent and brilliant gags Micky Flanagan has steadily made a name for himself as one of the top comedians in the UK.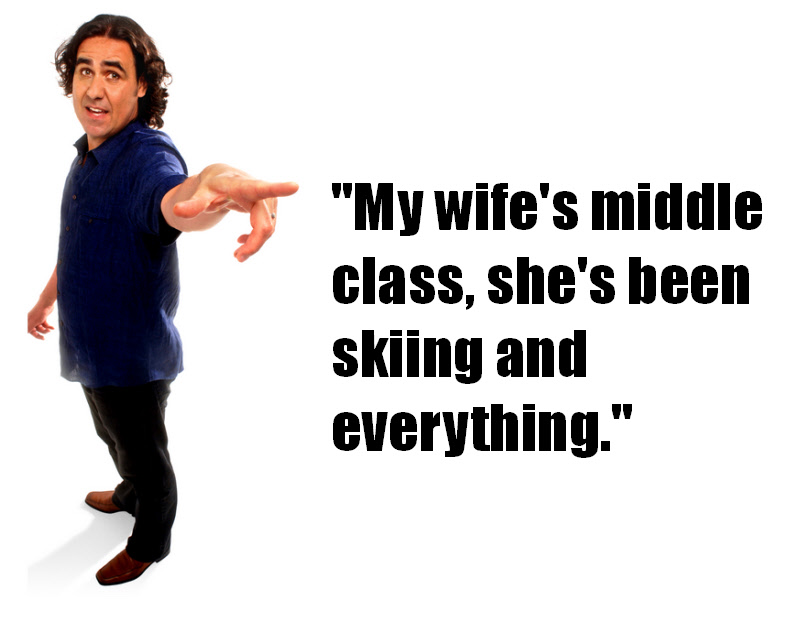 You may have seen him on shows such as Comedy Rocks, Mock The Week, Channel4 Comedy Gala and Live at the Apollo. He's also toured Britain with his stand-up shows.
Here are some funny jokes by Micky Flanagan:
My wife's middle-class, she's been skiing and everything.
I've worked out what ambiance is. It's a night out without poor people basically isn't it.
When I play Newcastle I do wonder if they think everyone from the south of England is a Cockney.
Only in the UK would you get a round of applause for saying the word "cunt".
[in friends voice] "I spent a year surrounded by people with no hope and no future". [own voice] I said "well we could've come straight into the Wetherspoons really couldn't we".
Stop teenage pregnancy, bring back fingering.
My wife decided, she said "we are having sex on a Tuesday" she said. Well, I thought that's great because now I know I can leave myself alone, you know what I mean. Because you can get caught out, she comes in a bit frisky, and you have to look at her and go (shakes head) "that ship has sailed darling".
I'm 26 and my girlfriend is 36. Is 10 years age gap a big difference to have sex? Because her 16-year-old sister is fucking hot.
I went to Prague last year with the wife, she said after 2 days "are you enjoying yourself?", I said "yeah, I've just paid £15 for 2 coffees".
Here's a good video of Micky in action, it is a stand-up routine for BBC. Unfortunately it's old skool being available only in 360p so the quality isn't the best.
Want to know more about Micky? Well, he is from London and lived in America for a year as a young man. He has been performing since 1997. His fame has continued to rise and he has appeared on Mock The Week, Comedy Rocks, Live at the Apollo, Channel4 Comedy Gala, 8 Out Of 10 Cats and the Royal Variety Performance. He is such a top comedian no doubt we will continue to see more and more of him.
You can also see him live on stage when he's on tour. Well worth going to see if you get the chance, be quick though as his tickets often sell fast.
Image of Micky smiling away as he performs on stage.