Resident (well, permanent holiday) of the Hill Grange Health Spa in Trump, Mrs Bubbles Devere is known for her lovely brown tan, pleasant voice and fuller figure when she gets naked!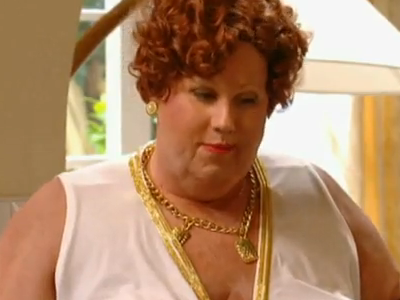 Not shy to say what she thinks and happy to get into a fight! But never keen to pay the bills and always keen to compete with her black friend Desiree. An equally glamorous, voluptuous woman.
Definitely one of the best characters from the Little Britain BBC series. Let's jump in to a collection of classic moments.
Catchphrases and quotes by Bubbles
"Call me Bubbles everybody does!"
"Hello darling!"
"Ha please leave. We all know what that means captain don't we; please don't leave."
"Champagne for everyone!"
"Are you a married man Mr Hutton?"
"I'm sure we can come to some sort of arrangement, Mr Hutton."
"My turn now darling."
"I have a colonic at 3."
Video clips
Here are some great videos of Bubbles in action.
Still hilarious isn't!
Worth watching again and again, quality sketches. One of many great creations by writers Matt Lucas and David Walliams.
Last Updated: