Fawlty Towers Quotes from Episodes
The BBC's Fawlty Towers focuses on deranged Torquay hotelier Basil Fawlty's incompetence, temper and arrogance, a combination which means trouble and mishap are never far away.
Fawlty's antagonists are the hapless (but endearing)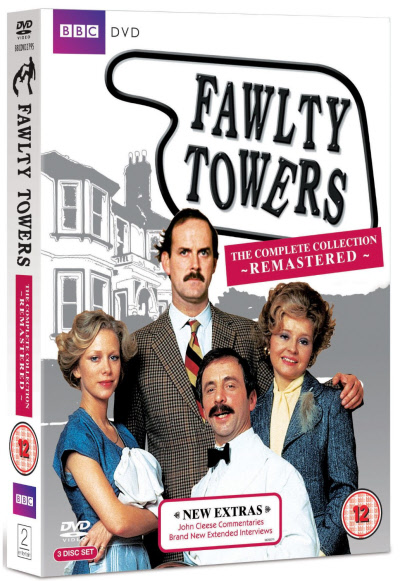 Spanish waiter Manuel, his wife Sybil, hotel inspectors and anyone foolish enough to check into his hotel.
Funny Quotes
Basil (on Manuel): He's from Barcelona. It'd be quicker to train an ape.
Basil: I'll go and have a lie-down. No, I won't; I'll go and hit some guests.
Basil (to Sybil): Coming, my little piranha fish!
Basil (to Manuel): Stupidissimo! Continental cretin!
Basil (on Sybil's laugh): Sounds like somebody machine-gunning a seal.
Sybil (on phone): I know … I know …. I know …oh, I know!
Basil: Next contestant, Mrs. Sybil Fawlty from Torquay. Specialist subject – the bleeding obvious.
The Major (on the Germans): Bunch of Krauts, that's what they are, all of 'em. Bad eggs!
Basil: May I ask what you expected to see out of a Torque hotel bedroom window, madam? Sydney Opera House? The Hanging Gardens of Babylon? Herds of wildebeest sweeping majestically across the plain…?
German: Will you stop talking about the war!
Basil: Me? You started it!
German: We did not.
Basil: Yes you did, you invaded Poland…
Remembering The Show
Fawlty Towers ran for just 12 episodes in two series between 1975 and 1979, but remains one of the sitcom by which many other comedies are judged. Since the 1970's, it has been exported to over 70 countries.
Based on real-life Devon hotelier Donald Sinclair and his legendary rudeness, Fawlty Towers is famous for episodes such as the one in which Basil subjects a group of German guests to an unrelenting tirade about the Second World War.
Co-writers John Cleese and his first wife Connie Booth star as Basil Fawlty and waitress Polly Sherman. The voice of reason which lends a note of reality the show, Polly's sanity is in perfect counterpoint to Fawlty's endless ranting.
Spanish waiter Manuel (Andrew Sachs) is the butt of this sitcom's physical jokes, from being hit with a frying pan to being hidden in a laundry basket. His poor English and catchphrase "Qué?" are running jokes throughout.
Less snobby and more intelligent than her husband, Sybil Fawlty is nonetheless pretty unlikable. Bossy and domineering, she constantly undermines her husband, with her ear-piercing cries of "Basil!" Ultimately, he remains terrified of her.
Fawlty Towers continues to garner accolades in lists of the best British comedy series of all time.
On June 11th 2020 the show hit the headlines when an episode titled "The Germans" was removed from UKTV's streaming service. John Cleese attacked the decision describing it as "cowardly and gutless". Two days later the episode was reinstated with a warning message before the episode begins.