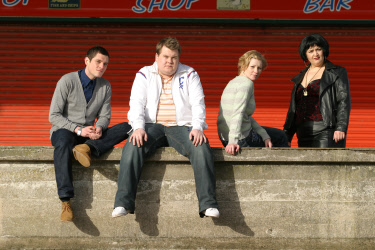 After 3 short series this very funny BBC comedy was brought to an end, but don't let that stop you having a right crackin' laugh at show still! You can catch the complete full second series which is being shown on G.O.L.D (sky channel 110, Virgin 126) on Wednesdays at 10pm (April 2010).
All round it was a top program, including a cool theme tune and excellent cast put together by James Corden and Ruth Jones. Here is the full song used, and below that the main actors who acted in the series.
Characters From The Show And Actor or Actress Who Played Them
Gavin – Mathew Horne
Stacey – Joanna Page
Smithy – James Corden
Nessa – Ruth Jones
Bryn – Rob Brydon
Gwen – Melanie Walters
Mick – Larry Lamb
Pam – Alison Steadman
Dave Coach – Steffan Rhodri
Dawn – Julia Davis
Pete – Adrian Scarborough
And of course there is Owain Hughes (and do you?), played by Steven Meo.
Which character are you most like?
On the uktv.co.uk website you can find out which character are you? To find out yours scroll down the page and click on the appropriate lads or ladies option. Apparently I'm most like Gavin!