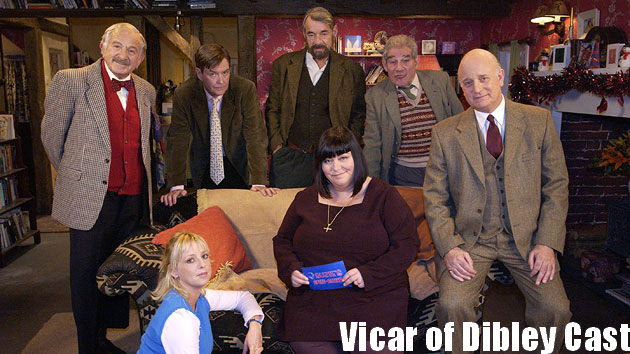 Set in a small, fictional Oxfordshire village and created by Richard Curtis, The Vicar of Dibley was written for the actor in the title role, Dawn French as the Rev Geraldine Granger. When she takes on the rural parish of Dibley, the jolly, earthy Geraldine finds herself surrounded by oddballs.
Let's have a giggle at some funny jokes from the show.
Funny Quotes By The Vicar, Jim and Other Characters
Owen Newitt: I am a great supporter of sex before marriage. Otherwise, I wouldn't have had sex at all.
Letitia Cropley: I've got a memory like an elephant… that's lost its memory.
Owen Newitt: I am not a lunatic. I have the psychiatric report to prove it. A slender majority of the panel decided in my favour.
Letitia Cropley: Care to try one, Mr. Chairman?
David Horton: No thank you. I'd sooner eat my own scrotum, Mrs. Cropley.
Owen Newitt: He's as doomed as a virgin on a date with Rod Stewart.
Geraldine: Well, here's to love and marriage, which go together like a horse and carriage, according to Cole Porter, who should know, he was gay.
Alice: I'm all ears. Well, I'm not all ears… I'm face and tummy and legs and lots of other bits, including some rather private bits I only let a doctor see. Only he wasn't a doctor, and he got arrested soon after.
Geraldine: You were expecting a bloke. Beard, bible, bad breath?
David: Yes, that sort of thing.
Geraldine: Yeah…and instead you got a babe with a bob cut and a magnificent bosom.
Geraldine: I don't care what the Bible says about girls kissing girls, I'd have snogged her any day.
Geraldine: Come in if you're sexy and you love Jesus!
Owen Newitt: Well, I might be able to talk the duck into a return performance.
Jim: No, no, no parking on the upper field!
Revisit one of the show's classic moments with this clip starring Johnny Depp which was filmed for Comic Relief.

Get the DVDs
You can buy all series in a DVD box set available now. Here are some of the ones you can buy with the prices they are new, it can be cheaper to buy used though.

More About The Show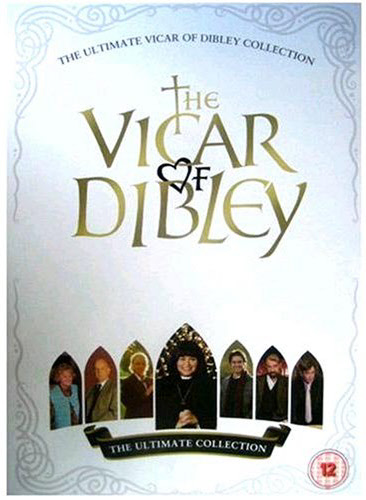 The Vicar of Dibley was one of the UK's most successful comedies, with various Christmas and New Year specials entering the top 10 programs of their year. It was named the UK's third-best sitcom in 2004.
Its combination of gentle writing and belly laughs has always set it apart.
After 18 episodes, three series and three short specials, two 60-minute episodes were filmed. They aired on Christmas Day 2006 and on New Year's Day 2007. The comedy's final episode filmed for Comic Relief, aired in March 2007.
After overcoming their shock at her gender, Geraldine' parishioners take her to their heart. They include dim verger Alice Tinker (Emma Chambers), David Horton the pompous gentleman farmer, Hugo his dithery son, the incomprehensible Jim Trott, Frank the dull parish clerk, plain-talking farmer Owen Newitt (Roger Lloyd Pack) and famously dreadful cook Letitia (Liz Smith.) Apart from Alice, all the characters are parish councillors.
Alice and Hugo marry after some matchmaking from the vicar and go on to have 10 children. The eldest, Geraldine, is born on Christmas Eve during the village Nativity play in which her parents are Mary and Joseph. The older Geraldine herself eventually finds love with accountant Harry Kennedy. Being the vicar of Dibley, she marries him in her pyjamas!