The first season of the new Stephen Merchant comedy was very good, not ground-breaking or a headline grabber but it was a very nice, easy and funny watch. If you haven't seen it and would like to watch it then you may still be able to catch up with it on Sky On Demand – depending on when you are reading this of course.
At the time of writing it isn't released yet on blu-ray or DVD but is shown on Amazon with alerts when it comes available.
The inevitable references to Gervais and Merchant's previous work will crop up in reviews of this show. I won't bang on about that, all I will say is if you like their previous work you will really like this. Although it is only Merchant who has worked on the Hello Ladies TV series it still has the same polished professional execution. With the same style of awkward humor brilliantly done by Stephen Merchant. Writing credits also go to Gene Stupnitsky and Lee Eisenberg who worked on The Office.
What Is The TV Series About?
It is about a geeky English web designer called Stuart. Living in Los Angeles and on a constant quest to find the woman of his dreams. There is also a subplot with his tenant Jessica (played by the very loveable Christine Woods) who is also single and trying to achieve her hopes and dreams.
You can read a full episode guide on the Wiki page. Looking back through the list I don't recall a single bad episode!
Funny Lines From Hello Ladies First Season
Now the series is over here are some of the funniest quotes from all the episodes. It is the style of comedy where the humor is in the situation and the awkwardness, but these lines are still pretty good!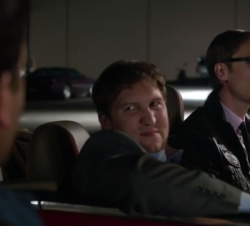 Stuart with Wade being smooth with good conversation to a couple of girls: "Seattle is actually the Suicide capital of the world."
"I hope you've brought your bikinis because it's going to get pretty wild in here." Camera pans across to see Wade having sun cream rubbed on his back by a fat bald man.
Stuart thinks he is being mugged not realising its a prank: "Sir if I lick your balls can I definitely keep my wallet please".
Stuart to Jessica about her noisy love life: "No I don't listen to you, but can I suggest you close your sliders once in a while, cuz I can barely hear myself masturbate."
Kives puts a camera down his pants and takes a photo and says: "hope I didn't blink!".
"I think my aunt might be a lesbian. She certainly dresses like one."
Stuart asked by model agency owner Andy if he would "go ethnic". He responds: "it's a good question. I think in the right circumstances I would."
Stuart trying to buy his way in to a cool club after not being on the VIP list. Holds a ten dollar note out and says "how about 7 bucks. Just give me 3 dollars back."
One of the funniest moments of the whole series had to be in the last episode. This isn't a quote. It's a photo that Kives sent. It was hilarious. So funny I had to pause it and take a quite snap on my phone. And here it is!
If you're brave enough you can even click that thingy to see it in even bigger dimensions.
You can share your own thoughts and favourite lines in the section below.