Funny Keith Lemon Quotes from Celebrity Juice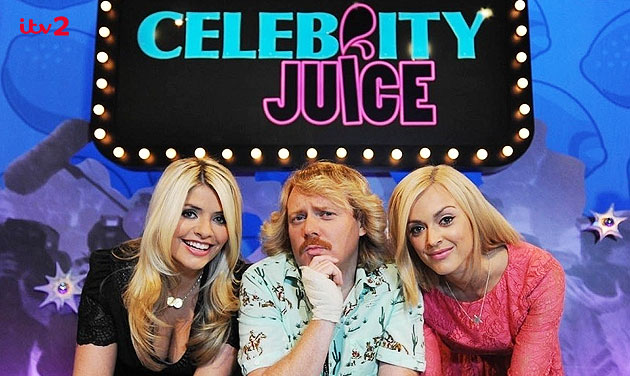 Shown on ITV2, "Celebrity Juice" has been on British screens since 2008. It's known for it's constant crude sexual jokes, beautiful guests and Keith Lemon's catchphrases and general randomness that comes out of his filthy ginger mouth!
Regular panel members have been the sexy duo of Holly Willoughby and Fern Cotton. Previously Rufus Hound and Kelly Brook were also regulars. And don't forget about Keith's dog Spud!
There have been many different celebrity guests, including Chris Moyles, Emma Bunton, Richard Bacon, Christine Bleakley, Danny Dyer (Malcolm!), Chris Ramsey, Lorraine Kelly, Brian Dowling, Diana Vickers, Gino D'Acampo, Holly Valance, JLS, Kevin Bishop, Pixie Lott and Verne Troyer as well as a whole shed load of others. The list goes on!
Here are some of the best Keith Lemon quotes from the Celebrity Juice show episodes:
Bang tidy!
I would smash your back doors in.
Word to ya mum.
I'm gunna go lay a little brown carrot during the ad break. I'll See you after the ad break!
Potato!!

Celebrity Juice host Mr Keith Lemon.

Don't be a dingbat.
This is your new song called 'Nasty'. What's the message?
On the head is different sectors. Or if you're American, secTORS.
VT stands for video tape.
There's Holly Willoughbooby doing daytime TV. Bangers!
I'm off for a pooh I'll see you in 2.
Kimberly Wyatt from the Pussyjuice dolls.
I'd wreck that chick.
Ad-brek.
She looks like a boy in drag, it's Fearne Cotton!
I'd ruin you.
And the scores at the end of that round are – Shetingggg!
I'll go get the prop, it's behind these curtains…these beef curtains.
[to Katie Price] Ohhh I don't know. I'd mash you up I would.
[to Richard Bacon] Richard, you do stuff on Radio 5, what is Radio 5?

Keith with sexy guest Pixie Lott.

Choose a categ-or-or-or-y.
[to Pixie Lott] Just wanted you to stand up so we get a good shot of your legs.
This game is as simple as peas.
I thought Moses were good. He got the sea and motted it out.
Her bangers are full of milk right now because she's having a baby. Holly, who's on your team?
Lesbikons.
DVDs released and merchandise
Quite a few have been released including 'Too Juicy For TV' which is well worth a watch. There is also a Keith Lemon film and other DVD's out including 'Obscene and Unseen'. Or if you want to binge out on over 7 hours of juicyness then definitely get this one, T'Box set!
Want to know more about Keith? Well, he is the comic creation of Lee Francis (you know, from Bo' Selecta!). The character is reportedly based on a real friend. You can catch the show on ITV2, and there are loads of clips on YouTube also. It contains rounds such as Lemon Head, Keith vs Jedward and Cover Stories.
And finally:
If I don't see you through week I'll see you through window. Let's dance!
This page wouldn't be complete without an awesome clip, so here is Keith with Little Ant and Dec. What awesome little dudes they were.
Got any other funny lines from the show? Share them via the social section below (we previously had loads of comments but lost them in a server move, as Keith would say "that is well shit".)
Thanks for stopping by. Shhhtinngggg!!!