Cult sci-fi comedy Red Dwarf is set on a mining spaceship of the same name, three million years after radiation killed most of the crew.
Key characters include Holly, the computer, Dave Lister, the sole human survivor, Arnold Rimmer, a hologram of Lister's former superior; and The Cat, the last of a humanoid race evolved from Lister's cat.
Series 1 to 8 are available in a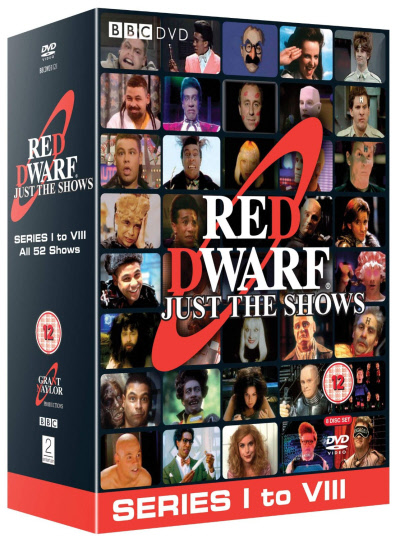 DVD boxset now. Here are some funny moments from Red Dwarf:
Rimmer: According to the log we're down to our last 3000 vomit bags. It'll never be enough.
Holly: Emergency. Emergency. There's an emergency going on. It's still going on. It's still an emergency. This is an emergency announcement.
Kryten: I owe Mr.Lister everything sir, if it wasn't for him, I'd be normal.
Lister: Don't give me any of that 'Star Trek' crap. It's too early in the morning.
Rimmer: Death? It's like being on holiday with a group of Germans.
Holly: As the days go by, we face the increasing inevitability that we are alone in a godless, uninhabited, hostile and meaningless universe. Still, you've got to laugh, haven't you?
Rimmer: Well, when it's not serious when your genitals can go wandering off on their own, I wonder what is.
Lister: This is crazy! Why are we talking about going to bed with Wilma Flintstone….she'll never leave Fred and we know it.
Kryten: Pub: ah, yes, a meeting place where people attempt to reach advanced states of mental incompetence by the repeated consumption of fermented vegetable drinks.
Lister: Hey guys, look at me body.
Cat: Now there is an invitation that will NOT cause a stampede.
More About Red Dwarf
Red Dwarf was created by Rob Grant and Doug Naylor and ran for eight series from 1988 to 1999, revived in 2009 as three-part comedy-drama Back to Earth, for digital channel Dave.
It may use a sci-fi pastiche as its backdrop, but Red Dwarf is above all a character-driven comedy, with off-the-wall, often scatological science fiction elements used as complementary plot devices. And it follows the standard sitcom premise of a disparate, dysfunctional group of people thrown together in a restricted setting.
In earlier episodes, a frequent source of humour was the relationship between the two main characters, low-ranking technician Lister (Craig Charles) and Rimmer (Chris Barrie). The pair dislike each other intensely, yet are trapped together in space. As well as Holly and Cat, other regular characters included, from series 3, Kryten, a service mechanoid; and, as of Series 7, Kristine Kochanski, originally portrayed by Clare Grogan, an alternative-reality version of Lister's long-lost love.
In 2007 the series was voted 'Best Sci-Fi show' by readers of Radio Times, while the sixth series took a British Comedy Award. Red Dwarf remains BBC2's longest-running, highest-ranking sitcom.
Craig Charles and Chris Barrie have said fresh episodes are being produced, with filming beginning next year. But the Red Dwarf website says nothing has yet been confirmed.