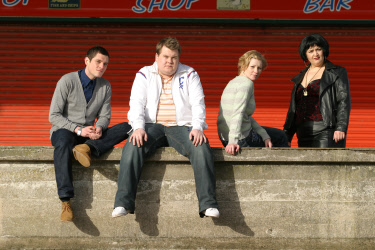 It's time to warm up your vocal chords and have a singalong to the famous Gavin and Stacey theme tune!
All-round it was a very funny TV program, including a cool theme tune and excellent cast put together by James Corden and Ruth Jones. The song used for the Gavin & Stacey ending credits in all episodes was sung by Stephen Fretwell and is called 'Run'.
The lyrics are below the video so you can sing the words to the song.
Lyrics
Tell me tomorrow I'll wait by the window for you,
I'll wait by the big house for you,
I'll wait by the squeezebox for you,
I'll wait by your dresses for you,
If you want to get the full song on your Spotify, Apple Music or whatever service you use, it's titled "Run" and is by Stephen Fretwell. Want to see the whole thing and the official video right now? Sure here you go!
After 3 series and a couple of Christmas specials the amazingly funny BBC comedy, Gavin & Stacey, last aired in December 2019. But don't let that stop you having a right crackin' laugh at the show still! If you want to watch them all again check your favourite on-demand service to see if they're listed. If not you can still buy the DVDs at a very cheap price.
If you're in the mood for another singalong head over and have a blast with Bryn and Nessa.
If you have a friend who also loved the show send to this to them and get them to have a singalong with the Gavin and Stacey theme tune as well!