A heckler, by definition is "someone who tries to embarrass you with gibes and questions and objections". If you have the desire to be a comedy performer on the stage then you will have to learn to deal with these people all the time. It is a big part of the fun of stand-up.
Here we go with some heckler put downs. If you think you've got better fire away in the comments section with your own!
Warning: contains strong language.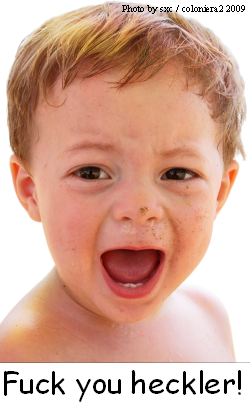 "I've seen you before haven't I fella. That's right, I saw you in the car park getting our of your car, now I know why the fuck you were in a disabled space."
"I've seen you before haven't I young lady. That's right, I saw you in the car park getting out of your car, for this woman normal spaces aren't wide enough so she parks in the mother/baby spaces to squeeze out her fat arse."
"I've seen you before haven't I. I saw you in Sainsbury's earlier today. A fat free yoghurt isn't going to be enough to help you out."
(If they say "wasn't me" to the above) "Oh right, and I suppose it also wasn't you who dribbled on the hot chicken counter! Yeah, I know what you chubby lot are like."
"Look stop heckling, I'm busy right now, can I ignore you some other time."
"I would make a joke about nailing your girlfriend. But I can see your shagging a fatty so I won't even bother with that."
"Don't you need a license to be such an ugly bastard? I'm surprised you're allowed in public without consent."
"Not get that joke? The lights are on but nobody's home."
"Is that your girlfriend next to you? Or your sister, I guess it makes no odds, you look like the sort of fella who regardless of relation would still fuck 'em."
"I love people like you, I don't need to do gags, your such a twat you can just shout stuff at me and bring the house down!"
"I've had shits that have made me laugh more then you."
"I hate hecklers like you, too easy. Shall I take the piss because you're fat, ginger, ugly, spekky, badly dressed, need a shave, look distinctly like a paedo, and if I was a betting man, you stink of BO."
"Right this show only goes on for 2 hours, so if you don't pipe down I think other people will make you pipe down. They paid to see me, and not you, for a fucking reason."
"I've seen starving Africans with more enthusiasm then you."
"Are you old enough to buy a ticket for this show? You've probably got less pubes down there then a porn star."
Fancy yourself as a funny man? You can leave your own ones in the comment section below.