Fancy yourself as having a good sense of humor and think you can profit from it? Or maybe you're a professional already in the comedy industry and you need a website. Building your own website can be a fun thing to do, and thankfully there are lots of ways to do this these days.
This guide will walk you through how to setup a funny website. Make sure you've learned how to be funny first, and then get stuck in with building your online presence.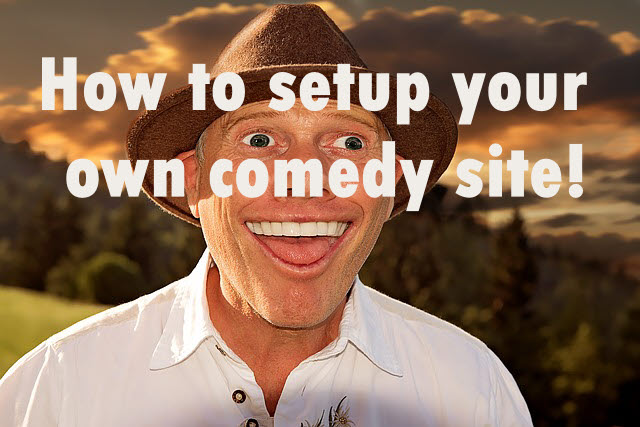 First up, you need to be crystal clear on what type of website you want to own. If it helps you, create spreadsheets listing what pages you'll want, the style of the design, and other key details. Try to visualize the website and exactly how it will work.
Here's a list of comedy website types:
comedy blog
video website sharing funny videos you create
personal profile website if you're a stand-up comedian, actress/actor, comedy novelist etc
dedicated website for a funny podcast
BuzzFeed-like website with fun quizzes and games
eCommerce store selling novelty goods and funny products
Etsy store selling your own creations, such as novelty t-shirts with funny quotes on them
A review website reviewing the latest comedy movies and TV shows
image gallery website sharing your funny cartoons, memes or other funny digital media
Make a final decision on what type of website you're going to create. And be clear on why it's going to be awesome, you want to create the best funny website you can after all! Also, be sure how you will create comedy content for the website too if it's not already been created.
The next step is to pick a suitable domain name (web address). Pick one that's brandable and suitable for your goals.
Pick a domain name
You'll also need to decide the domain name (web address) you want to use. There are many places you can use to register the domain name, we use Namecheap. For your domain extension you're best to stick with ".com" or your local regional, E.g, ".co.uk". But there is ".lol" if you wish to use that, it may put some people off though. The ".comedy" domain extension doesn't exist.
The next step is to understand how you're going to promote it. There's no point setting up a funny website and then having no idea about how to get people to visit it. Before you start building your website make a full list of ways that you plan to use to earn visitors. Here are some ideas.
Ways to promote your new funny website:
have a funny Twitter account that sometimes links to your website
share images regularly on Pinterest that you've created
upload videos to YouTube and link to your website in the description or mention it in the video
create a Facebook group page and from time to time link to the website
be part of a community, such as with other bloggers who are also creating similar content
do interviews where you can to try and get some promotion for the website such as being a guest on podcasts
tell all your friends and family and get them to share the website with as many people as they can
continually add new funny content to the website for many months and years in order to increase your presence in Google and other search engines
create a newsletter that people can sign up to on the website and and send a monthly funny newsletter with links back to the website
create a complementary podcast and mention the website and the podcast episodes
use paid methods, such as; Google Ads, sponsored Tweets, and Facebook Ads
be active within the the comedy community on websites such as Reddit and Quora, however never spam them
write guest content on other websites in the industry
That list is quite large but don't get overwhelmed. At ChuckleBuzz we focus on publishing the best content so that it gets lots of visitors from search engines. Many of the other methods we choose not to do (time = money). It's a simple strategy but it works for us! Have a similar mindset and be clear on which methods you will use, always think about how much time each one will take.
Next up you need to understand how your website in the comedy industry will make a profit for you, or at least cover its costs!
Ways your website can make money:
display advertisements such as Google adsense
retail sales if you're an eCommerce store
affiliate commissions if reviewing/promoting funny products on a comedy blog
winning work as an actress/actor on productions you might not have achieved without such a good personal website
extra sales of your own products, such as if you're an author of your own comedy novels
getting commissioned to create new cartoons if you're a funny cartoonist
These are just some of the ways to make money from your funny website. You probably already have your own plans for monetization. Make sure you're clear on them before proceeding to start building your website. You don't need to know inside out how you will implement them, you can always learn that later once the setup is complete.
Now you're clear on what type of website you're going to create, how you're going to promote it, and how it will generate you some revenue – let's look at options for creating your funny website.
Different ways you could setup the website:
Go it alone and setup the website yourself
Thankfully these days it is significantly easier for anyone to setup their own website compared to what it used to be like. It will take a little bit of time and a bit of learning. But it is the cheapest way to do it and means you can also hire developers later down the line to get the website 100% how you want it.
This is often the best way to start a comedy blog, and is the way we did it at ChuckleBuzz! There are plenty of quality web hosting providers who have nice easy-to-use admin panels. You should also consider specific WordPress hosting where they will set everything up for you. Nice!
Step 1 – order a domain and web hosting
To setup your comedy website you will need to think of a suitable domain and then buy some web hosting. They are the two main things you need to get going. Once they're sorted you can get on with uploading awesome content like memes, jokes, and funny videos.
Your domain is your web address, for example, ChuckleBuzz.com or FunnyOrDie.com. Try to come up with one that is fairly short and memorable. Being in the humor industry you want to consider trying to make it something that people may know will be funny before they've even landed on it.
Once you've thought up with a really good domain name it's then time to pick some web hosting (you can order the domain and web hosting at the same time). This is where all your website files will be housed. The hosting is what allows the website to be accessible to the whole world!
There are a fair few you can join. Two of the most popular are HostGator and BlueHost. They are reliable services with good support and offer fair prices.
When picking hosting from big companies there isn't really a right or wrong. It's whichever suits your needs best.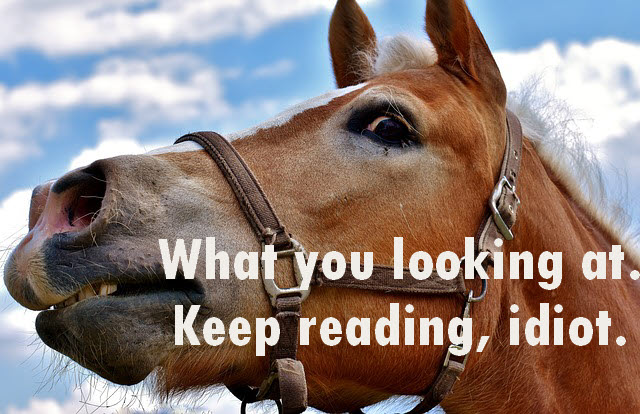 Step 2 – install your script or WordPress
Once you've ordered your domain and hosting you've started the journey.
What type of content you go with on your website is completely up to you. There is no set guide that can be given here that'll suit everyone. If you want a blog-style website like ChuckleBuzz then installing WordPress is a good choice (that's what we use!). With WordPress, you get a huge amount of options thanks to the plugins. It can power all sorts of websites, including personal profile sites for actresses/actors and eCommerce websites. It's free to use forever.
If you're using a pre-built script to run a video website or something like that then look into the instructions specific to that product.
Step 3 – pick your theme/web design
Once you've installed WordPress or your script it's time to pick a template/web design. You want it to be suitable for your needs. If creating funny content such as videos, memes, cartoons, etc, then keep it bright and fun. If you're an actress/actor you're best to stick with something more professional that reflects your personality.
If you have the budget and need professional help see the links further up the page for freelancers.
Step 4 – add your content
Now you need to make sure you build up a little bit of funny content! If you now own a funny blog site it's time to create and published comedy memes, viral videos, etc. Whatever plan you made earlier is now what you execute. There's no point promoting it until you've got a good amount of quality content on the website.
And that's it. Once you've got your domain and hosting, installed software such as WordPress, implemented a theme, and added some content – it's time to get promoting!
We hope this free guide has helped in some way.
Could you set a blog up for free?
If you just want to make your own website for fun then you can easily create one for free if you use a service such as Tumblr or Google Blogger. They're quite limited so they're not ideal for professionals or people looking to create a BuzzFeed-like website.
If you want to bring in money from your efforts then the free services will severely restrict you. They also look a lot less professional compared to being the boss of your own domain.
Put a good plan together, take things seriously, post some very funny stuff and who knows, you could go viral and end up creating the next BuzzFeed!