Noble's stand-up routine is best known for its improvised and surreal performance, and its stream of consciousness delivery. He often mimes actions to help the audience visualize his ideas, and much of his act is often based around heckles or chats with audience members. From firing Elton John out of a cannon to urging the audience never to put a blanket over an owl, to portraying an epileptic flamenco dancer, his comedy tends to be very physical, and his stage sets extravagantly decorated.
One of his most popular DVDs is called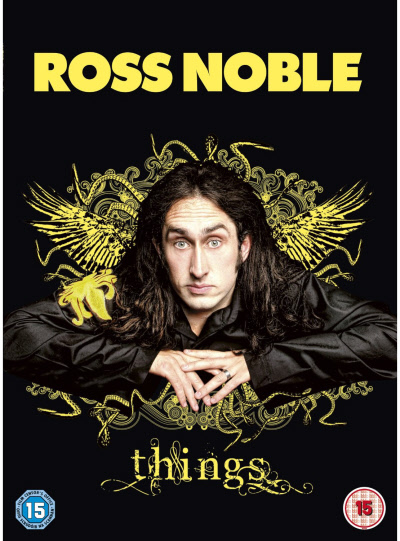 'Things' and is available now. His latest release is called Nonsensory Overload. Here are some funny Ross Noble jokes:
It is a dark night in the forest! Out of the moonlight swoops a tiny bird and it begins pecking at my ear, pecking and pecking! Deeper and deeper! Help me! Help! I've got sparrows in my mind!
That's the thing, in a deaf class; no-one can hear you scream…
How come Miss Universe is only won by people from Earth?
Tonight's show is sponsored by Ted Danson's Pizza shack!
It's Christopher Reeve the Musical!
(On reading a fortune cookie) And I was feeling a bit cheeky, so I went 'Ooh, it says 'You have AIDS.'
(On his hometown in Northumberland.) The ultimate in dullness.
(On the Queen's Jubilee celebrations in London.) They could have just had a massive pile of burning tires and more people would have turned up. Especially if they put S Club 7 on the top of it.
I had to take the batteries out of the carbon monoxide detector; it was beeping all night.
Noble has made many TV appearances, particularly on interviews and on celebrity quiz shows such as Have I Got News for You. In a 2009 poll for Channel 4, Noble was voted the 10th on a list of the 100 Greatest Stand Up comedians. London's Time Out has called him: "The supreme master of spontaneous stand-up and the most exciting comic in the country."
Noble travels the UK and Ireland this autumn with his Nonsensory Overload tour. DVDs including Sonic Waffle, Randomist, Fizzy Logic, and Unrealtime are out now.