Towering Yoga Masters – Balancing Physics Game
Instructions – How to play
The 'masters of yoga' are a group of friends who love to get together and balance on top of each other. What a great hobby! Your aim is to balance them all on top of each other without anyone falling off. It's difficult!
Controls are simple. It's one-touch control. If you're on a touchscreen then tap the screen when you want to place a yoga master on the pile. If on PC click your mouse to achieve the same result.
Play
For the best experience please set the game to full-screen using the icon in the top right corner of the game. Be aware that only some browsers will support full-screen though. There's a mute button if the sounds annoy you.

Video of gameplay
Coming soon, we're currently recording it and uploading to our channel.
Screenshots
Click to view fullsize in new window.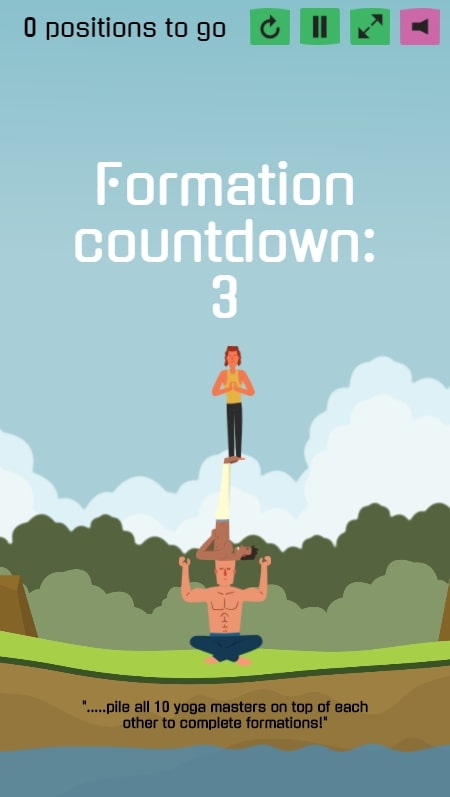 Your Challenge
Can you complete all the difficulties? If so how many attempts does it take you? Prepare to be frustrated! If you completed all the levels please consider sharing it with friends to see if they can do it as well.
Details
Family friendly
Made with HTML5 so you can play on desktop, tablet, and smartphone
HD Resolution: 1080×1920 (9:16)
Version: 1.0
Development Engine: Construct 3
Browser compatibility; Firefox, Chrome, Safari, Edge
Free-to-play
Contains funny sounds
Cheats available: none
Quick Review
This was the first game created by a new developer and it's a good effort for a first-ever HTML5 game. It's got good personality and although tower block building as a format isn't a unique idea, it's a fun twist on the genre. It's a shame there isn't more depth to the game with more levels. A custom version whereby you can pick which character to spawn would also have improved it. It certainly has the 'blood boil' factor as you get frustrated with the physics!