Some people refer to it as a circus, some call it cabaret, whatever you want to call it, this is traditional entertainment at it's best with brilliant artists and incredible performances. The show is currently at the 'Big Top' on London's South Bank until Jan 30th 2011 and is well worth seeing.
The Big Top is essentially a 'posh tent', but don't be fooled by the tent statement I've made, it is brilliant and it's shape and setup provides a cracking atmosphere and lends itself to lots of audience interaction and allows the acts to get very close to the big smiles.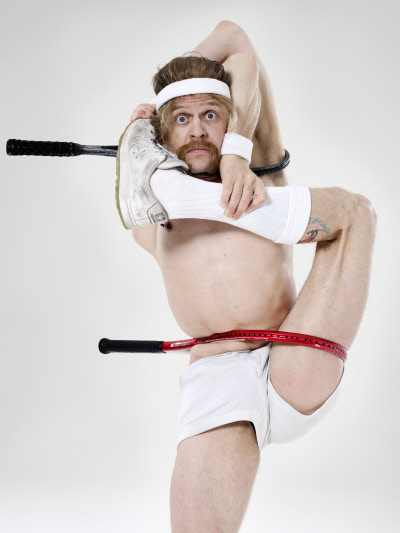 My favourite act was Captain Frodo, actually scary what he was doing and very funny at the same time. At first clapping it felt weird, I've never applauded anything so freaky! You can see him in the photo on the right. He provides a fantastic mix of comedy, shock, surprise and even a bit of relief when he reaches the end of his routine!
The most impressive was perhaps the English Gentleman, astounding balance and strength. And they also leave the female members of the audience with grins as wide as you've ever seen, I won't spoil it though, but I reckon you can guess! All the acts were very good and not one bit of the show was disappointing. I could easily go on describing each one as they are well worth talking about, but I'll try to avoid too many spoilers in this review despite temptation!
The show was very professionally done all round, with only one little hiccup which was quickly sorted by the staff and apart from that it was perfectly seamless. As I would perhaps expect from such a top event, but with so much crazy stuff happening it was amazing how easy they made it all look.
I would highly recommend you go and see the show. Ideal for couples, families or groups of friends – everyone will love it. It has a warm traditional entertainment feel about it, something nowadays we are perhaps short of, so if you want a good night out it is well worth going to whilst you have the opportunity.
For more info, to watch a preview video or buy tickets check out the la-soiree.com website.