This comedian first established himself in the mid 1990's via the Edinburgh Fringe Festival, as so many stand-ups do.
As well as being very good doing his stand-up gigs, he has also been successful on the TV with Not Going Out and on BBC Radio 2.
Known for his energetic performances, and brilliant audience interaction, if you get the chance it is well worth going to see Lee Mack live.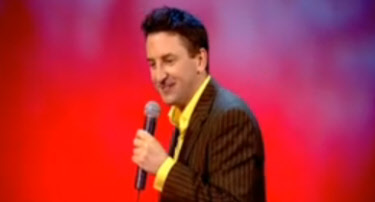 Here is a short collection of some of his best jokes:
"I got recognised today in Dixons, a member of staff came up to me and said 'hey your that mad bloke off the tele', I went 'thats me', and he went 'no, your that mad bloke….off the tele!'"
(about cars) "I would say 'has it got a cup holder, and will it make birds touch my cock?'".
"I'm in a relationship at the moment…sorry girls…it's going to have to be your place."
"A market researcher said 'can I ask you 10 questions', I said 'go on', she said 'question number 1 have you ever had a blackout?' I said 'no', she went…'and finally, question number 10.'"
"My wife, shes carrying our first child…he's 8, the lazy little fucker!"
"Is that a gun in your pocket or you just pleased to see me? No its me knob."
"I look like one of those kids who's going to get a free trip to Disneyland."
"My dad, kind of bloke could read out a telephone directory and It'd be funny…to be fair, he used to do it with his cock out."
"Hey, you couldn't write stuff like that could ya!! Of course you could…I did".
(about 'They Think It's All Over') "They did 19 series and then I did 1 and they cancelled it."
(to the French) You lot will never have the pleasure of coming home as a 14-year-old boy, thinking you're only getting beans on toast and then going "oh hello, there's little sausages in their".
DVDs Released
Enjoy his work? If you want to watch more of this very funny man in action you an buy his highly rated DVDs which get great reviews, here are just some of them.

If you keep your eyes peeled on Sky you may also catch Mr Mack (real name Lee Gordon McKillop) in some shows he has appeared on in the past.
Want to see Lee live?
It is always better to see comedians perform in the flesh! If you want to see him live you can check current tickets available at the TicketMaster website. Worth going to watch if you can.