Derek Quotes – Lines From Channel 4 Comedy Drama Episodes
Created and starring Ricky Gervais Derek has proved a big success. It is a series which has no set genre. As Ricky has said himself before, if it makes you laugh it's a comedy, makes you cry it's a drama. And if both happen then it's like real life.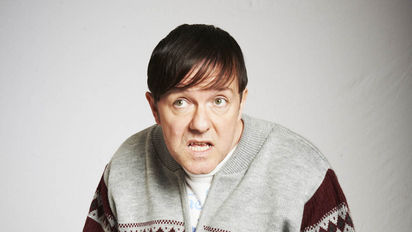 Lines From Episodes of Derek
These are not the funniest lines, or the saddest or anything like that. They are a mix of lots of lines from the show which hopefully sum it up nicely.
Derek – "My best friend is Dougie, and I also live with him."
Dougie [talking about his penis] "I'd get rid of it tomorrow."
Derek – "Hannah said I should never use that scale again. Because he [Kev] weighed his knob in it."
Kev with a very fat woman – "We've been having sexual intercourse since yesterday afternoon."
Derek [talking about Hannah] – "She's the nicest person in the world."
Dougie – "From the moment your head pops out someone gives you a slap."
Derek – "What if they all starts doing it – going out with each other. It's be like TOWIE in here."
Kev – "I'd happily do her even if she was pregnant with venereal disease."
Dougie [to Derek and Kev] – "You know we've got you out here because you stink. Making a smell in there."
Derek – "She said it was better to be kind than to be clever or good looking, I'm not clever or good looking. But I'm kind."
Kev – "I'm not a failure because I didn't succeed. I'm a failure because I didn't try."
Kev – "I'm glad I met Derek, because he makes me feel better, because he's better then everyone."
DVDs Released
About The Derek TV Show
Derek is mockumentary-style TV show written, directed and starring comedic actor Ricky Gervais. The title character, played by Gervais, is a naive 49-year-old who is a care worker for a nursing home. Derek is ridiculed for his lack of intelligence and social awkwardness but he shows great affection for those around him. The series follows his friends and fellow co-workers and displays how they are ostracised for their positions in life while also showing their kindness in caring for the elderly.
The group includes Hannah, the dedicated runner of the home who has worked there over a decade. Derek also spends time with his friends Dougie, who is an unattractive caretaker and Kev, who does not work but spends time watching the others while telling lewd jokes and generally being obscene. They spend their days entertaining the residents and at times fighting to keep the home open as those in their care come and ultimately go.
Derek first aired in April 2012 in Britain on Channel 4 as a pilot. A full series was commissioned, which began airing in January of 2013, then aired in September of 2013 on Netflix streaming and has been recommissioned for a second series.