Dirty Limericks – Adult Themed Limericks
We've posted some funny limericks before. They were not ideal for kids, but at the same time, they were not overly strong. So here we are back for more and even more brutal. Now here are is a collection of dirty limericks for the filthy minded only! They've all been sent to us from the beginning of a book titled "Dirty Limericks" by Anonymous, I'm sure you can work out what the book contains.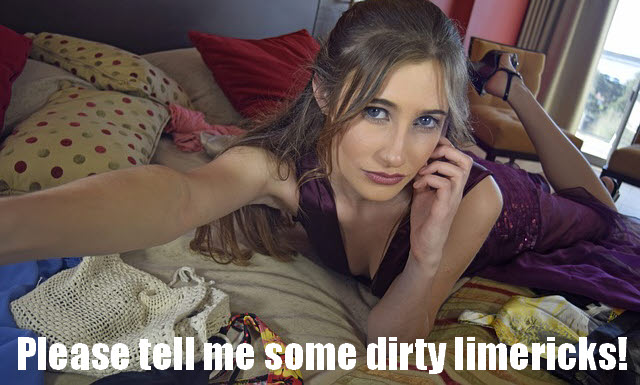 Let's jump in and share the funnies. You can see a load more in the comments which you guys have hilariously posted, some are absolutely brilliant!
These are adult themed so if you are easily offended, leave now!
There was a young man from Kildare,
Who was having his girl on the stair,
On the forty-fourth stroke,
The banister broke,
And he finished her off in mid-air!
There was a young girl of Cape Cod,
Who thought babies were fashioned by God,
But it was not the Almighty,
Who lifted her nightie,
It was Roger the lodger, that sod!
There was a young man of Cape Horn,
Who wished he had never been born,
And he wouldn't have been,
If his father had seen,
That the end of the rubber was torn.
There was a young chap from out yonder,
Who buggered a big anaconda,
He regretted this crime,
For the rest of his time,
While the reptile grew fonder and fonder.
Add Your Own and Read Others
Scroll down now to the comments section where lots of other people have contributed their own fantastic poetic additions. Created a limerick yourself? Please submit it. Thanks everyone for the amazing contributions so far, too many to name.
Books of Limericks
If you love funny limericks check out these brilliant books, it would maybe make a nice novelty present for someone who has this sense of humour, or just for yourself of course to feed your mind with the beautiful English language being used at it's finest.

As always, you're welcome to add your own below in the fantastic comment area, just scroll that little mouse of yours and you will reach your destination. Please remember what the requirements are. A limerick is a humorous poem consisting of five lines. It if doesn't meet those simple guidelines it's not welcome!