On November 4th 2009 I saw Andy Parsons Live at the Royal Spa Centre in Leamington Spa.
TL;DR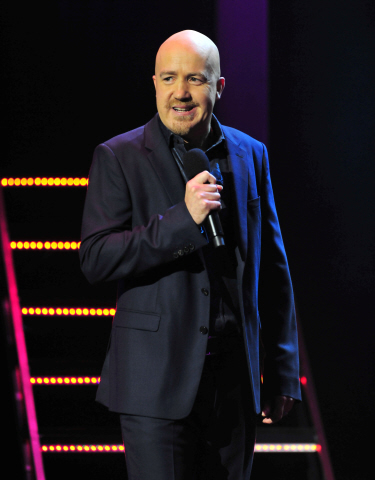 From start to finish a great performance from one the countries best comedians of the moment. Known for his timely pauses, a voice which should be annoying but isn't, and a cheeky chappy grin – Andy Parsons excels on stage even more so than on popular TV programs such as Mock The Week. His natural style is very endearing and refreshing compared to other comedians around. A show 2 hours long felt more like 10 minutes, none stop laughs. A genuine must-see comedian whether on DVD or live (see bottom of article for details). 9/10.
A Man Who Has To Do His Own Voiceovers
It began with the lights going out and Andy introducing himself, "a man who has do his own voiceovers at his shows, please welcome Andy Parsons", to which he arrived in the usual comedian style with thumping music and dancing lights, complete with his trademark grin and jig/walk/slide/dance to the centre of the stage. As soon as he stands there, the clapping subsides and he just grins, instantly the laughing begins and you know you are in for a good show.
Talk Topics
Topics included; politicians, history, modern society, parking, a night in with a fruit nut chocolate bar, Iggle Piggle, current topics from the past couple of weeks and also what makes Britain great! He also asked "What annoys Leamington Spa", to which a wall of silence was the response despite a sell out audience. Ammo is what you have to give comedians and he was given nothing, but without being unnerved he carried on seamlessly rolling on the show providing great laughs.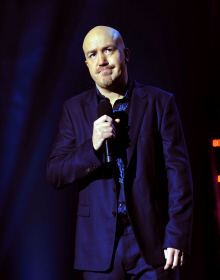 Hit List
On his hit list where; politicians, city bankers, teachers, traffic wardens, Katie Price, Peter Andre, Iggle Piggle, and of course the front row of the audience. At this gig was a guy called Tony who took the biggest battering, he had a moustache, came on his own to the show and used to work looking at school buildings in Coventry, but for some reason was no longer allowed to! The jokes flowed.
Oooops
Andy is an incredibly likeable and a very natural comedian. He even nearly fluffed a joke involving Michael Jackson and George Michael. I hadn't even realised he nearly cocked it up until after he finished the gag he giggled and said ooops nearly cocked that joke right up! Openly admitting a little giggle from him normally means he has slightly got it wrong, only adding to his likeability.
The Campaign
Andy also championed his campaign to get Iggle Piggle banned! Don't ban the comedians from the BBC, ban Iggle Piggle! For those who don't know he is a small cute blue teddy from the CBBC program 'In The Night Garden'. With Iggle Piggle any small surprise causes him to fall over, and now Andy's nephew does the same, not cool Iggle.
What Makes Britain Great
Towards the end of the gig soft music began to play, and Andy began his speech about why he loves Britain, it added another element to the performance, a final farewell to sign off a great night.
Encore – We're All Busy People
As the music began to blare and the final applause began the music instantly cut and Andy said "right thanks, lets get on with it, fuck it we're all busy people!". And he closed the show bringing back previous jokes full circle, showing off his confidence as a performer, ability to mould a joke around a whole night – and leave the audience on a high with big laughs.
Live Stand Up
If you get the chance I highly recommend you go and watch him live, it is a great night out well worth the money
DVD – Britain's Got Idiots
You can also buy the DVD titled Britain's Got Idiots, which is released on November 23, 2009.