Due to websites like eBay and Amazon selling online is very competitive. The has lead to lower prices. Happy days! I love to buy old comedy DVD's, get them used and often they are dirt cheap. Here are some really good ones that are available at the time of writing for less than a pint of beer.
Postage is a flat cost of £1.26 on Amazon, and many of these are just £0.01. Although they are classed as 'Used' the condition is nearly always 'Very Good' and having bought many myself I can vouch that they are often as good as new. How the sellers are making money I don't know! But as long as these prices are available it is worth taking advantage of.
If you want to grab them cheap head over to the retailer and type the titles in where you will see them, most will be shown as 'Used' for £0.01. If you prefer to use eBay you should also find very similar prices there. Remember before checking out wherever you buy to check the seller has a good feedback rating.
Blades Of Glory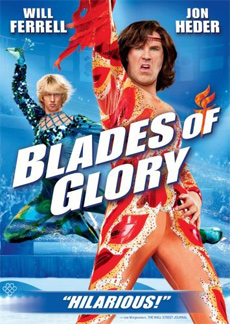 Starring Will Ferrell as Chazz Michael Michaels and John Heder as Jimmy MacElroy. They are two male figure skaters who join forces after being banned from the sport. If you like Will a similar type of film you can also get is 'Kicking And Screaming' for the same price.
American Pie: The Wedding
The American Pie franchise is a comedy classic and personally was a big part of my teenage life. Years later the DVDs are now very low priced, but still awesome. This was my personal favourite when Jim married his little band camp nympho Michelle. Stiffler eating dog shit and Jims pubes wrecking the wedding cake are just 2 classic scenes. Not only is this one cheap, others in the series of movies can be had for £0.01 plus postage.
Just Go With It
Starring Adam Sandler and Jennifer Aniston this was a suprisingly good film! Sandler makes funny stupid movies and Aniston is always gorgeous so I guess it being a success isn't such a surprise. A very likeable film well worth watching. This was only released in 2011 so is still fairly fresh, but sitting here now writing this right now I can see it on Amazon for £0.53 + £1.26 UK delivery, a total cost of only £1.79. The price will fluctuate but should always be around this amount.
Mr Deeds
Another Sandler success was with Winona Ryder. Many view this as his best movie, but he has so many good ones it seems tough to pick his best. Yet another of his to also check out is the 'Wedding Singer'.
Jimmy Carr Live
The king of hecklers has a whole library of releases. If you like stand-up comedy then you need to own at least one
Jimmy
DVD in your life. Brilliant at filthy one-liners and controversial topics have made him one of the UKs top comedians. This isn't the only low cost stand-up DVD out there, there are loads of others by top comedians including the likes of Billy Connolly and Peter Kay.
The Wedding Date
This is a bit of a soppy romcom. But it is brilliantly British, very funny, and has some very good looking people in it! As a bloke I am not afraid to say this is one of my favourite films. If you haven't seen it and you could only buy one DVD here, this is the one I would recommend. Classic British movie.
Men Behaving Badly: Series 4
This is a proper British classic (see quotes page). Not just this series is available at this price. Lots of the other series are as well. I chose this one because it has the episode titled '3 Girlfriends' when Tony try's to juggle having 3 girlfriends, whilst Gary makes sad attempts to woo them when they come round to the house. This is one of those shows that is up their as a British classic and can be watched time and time again.
Thanks for reading, enjoy having a giggle!