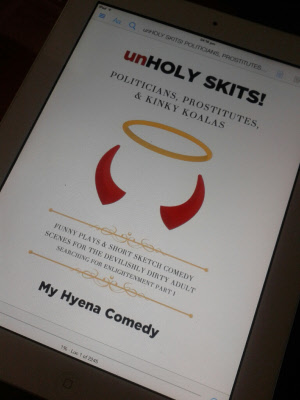 The full title of this book is "UnHoly Skits! Prostitutes, Politicians, and Kinky Koalas: Funny Plays and Short Comedy Scenes for the Devilishly Dirty Adult Searching for Enlightenment Part I".
It was released on April 1st 2014 and has a total length of 158 pages.
Upon opening this book and glancing at the contents I already started to laugh. Seeing story titles such as "Jews in Mexico" and "The Dirty Dentist" gave a quick feel of exactly what type of comedy this was going to be. The type that suits me very well.
The book is very simple, as the title says it is a collection of funny plays. They are funny to read as they are and would also be great to be performed.
I always judge these sorts of books on 'hit rate'. How many of the stories make me laugh? It is no good having one hilarious play and then 30 rubbish ones. With UnHoly Skits they have achieved a high hit rate with lots of crackers. Very rarely was I disappointed.
My personal two favourite stories were probably "Pregnant, Pained and Perturbed" and also "Tickle-Me-Harry-Potter". I won't put any spoilers here but needless to say they have very funny endings. This isn't reason to skip the others though, it is well worth going through from start to finish. In this format you could probably ask 10 people and they would all have different favourites!
With these types of stories I always find myself reading them in anticipation of the end. Like it is building you up and the longer it goes the more I am keen to get to the end. This can lead to a couple of anti-climaxes but ultimately I found myself laughing our loud on more than one occasion.
Due to the stories being short and snappy they are also great if you want quick reads rather then sitting down for hours to read. I personally prefer to read in short stints so if you are the same this is ideal. And of course if you want ideas for funny plays to do in drama groups this is perfect for you. Each story includes information on recommended props and costumes so you can really run with it.
All-in-all a decent book and well worth checking out. You can order it from Amazon.com.