Popular award-winning Irish comic, newspaper columnist and TV presenter Dara O'Briain has been dubbed Terry Wogan's 'heir apparent.' One commentator even said: "If you don't laugh at Ó Briain, you must be dead."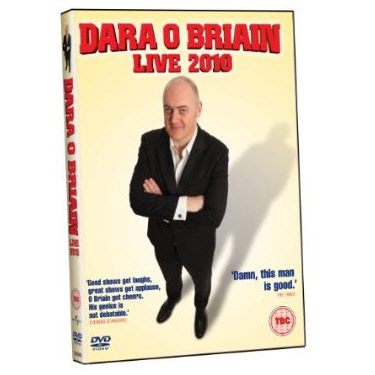 He hosts panel show Mock the Week, and has been involved in similar programmes including Have I Got News for You and QI. O'Briain has also toured the UK and Ireland widely, taken the Edinburgh Festival by storm and rowed up the Thames in a TV recreation of the novel Three Men in a Boat.
Here are some of his funny quotes.
To Chico: What's the time? Chico: It's Chico time! Dara: Really? I make it 20 minutes past Chico time.
On his imaginary English child: He won't have an asterisk above his head, as in 'I love you, but – check asterisk, go to bottom of the page – you shouldn't have invaded Ireland for 800 years.'
I think the English are bipolar. 'We're the greatest, no we're terrible' – that's a constant English struggle. Crime is down, there's little poverty – yet it's always the worst time to have lived here.
This is the first time that Irish people go: 'You're going to England? Sure it's full of terrorists. Come to Ireland. We've no terrorists. They're all playwrights now.'
My iPod holds 3,000 albums. I own, like, 90 albums. My iPod sits at home, sullen, frustrated, and underused, like a wife who gave up her career and the kids turned out to be shite.
When a big wind sweeps across America, there isn't a building left standing: the southern states must have been built by the first two little piggies.
On his grandmother who, as a teenage member of the old IRA, hid in a ditch to escape a British army patrol: Would a 16- year-old today manage to stay in a ditch for six hours, without texting their friends – "am in a ditch, where r u?"
I'm technically Catholic, it's the box you tick on the form: 'Don't believe in God, but I still hate Rangers.'
O'Briain tours extensively across Ireland and the UK during the rest of the year, including nine dates at the Hammersmith Apollo in September. His first book, Tickling the English, is out now.