Father Ted ran for three series and a Christmas special on Channel 4 in the 1990s.
Set off the fictional, remote Craggy Island parish off Ireland's west coast, it centres on Irish Catholic priest Father Ted Crilly and fellow clerics, Fathers Dougal McGuire and Jack Hackett. The priests live together in exile with their hyperactive, tea-obsessed housekeeper Mrs Doyle.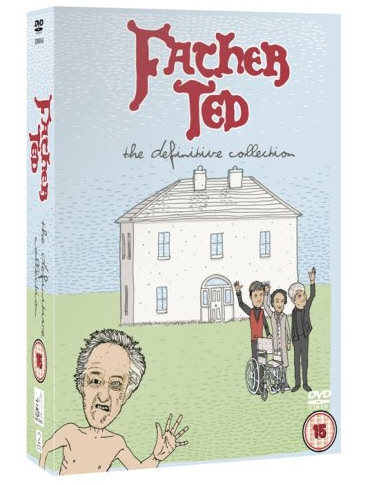 Funny Quotes From The Channel 4 Series
Mrs Doyle: You'll have some tea… are you sure you don't want any? Aw go on, you'll have some. Go on go on go on go on go on go on go on go on GO ON!
Mrs Doyle: What would you say to a cup father?
(offers him a cup of tea)
Father Jack Hackett: FECK OFF, CUP!
Father Ted: It's fabulous being a priest – think of all that comfort you bring to the sick and dying. They love it, they can't get enough of it!
Father Jack Hackett: Drink! Feck! Arse! Girls!
Father Ted: You won't be able to come with me… when I go into space. I'm going to be the first priest in space.
Father Ted: Heart of Gold that man, he'd do anything to you… for you.
Father Ted: He gets a kind of waxy build-up in his ears.
Father Dougal: Yeah, but it's good though, in a way, cos we never run short of candles.
Father Ted: What was it he used to say about the needy? He had a term for them…
Father Dougal: A shower of bastards.
Father Dougal: It's like a big tide of jam coming toward us, but jam made of old women.
Bishop Brennan: Normally you wouldn't be able to organize a nun shoot in a nunnery.
More About The Show
Penned by Arthur Matthews and Graham Lineham, the much-loved BAFTA-winning Father Ted ran for 25 episodes between 1995 and 1998.
The trio of priests has been sent to Craggy Island following various past incidents, Father Ted for financial impropriety ('that Lourdes thing'), Father Dougal for the 'Blackrock Incident', (an event which left 'many lives irreparably damaged') and Father Jack for his drinking and womanising.
Plots centre on church matters, or Ted's plans to either resolve a situation with the parish or other Craggy Island residents or to win one over his arch-enemy, Father Dick Byrne of neighbouring Rugged Island.