Last night (August 24th 2011) the first episode of the new comedy-drama series 'Mount Pleasant' aired on Sky1. As with 'Trollied' this new show comes with an impressive line-up of people involved, including being written by Sarah Hooper from 'Shameless'.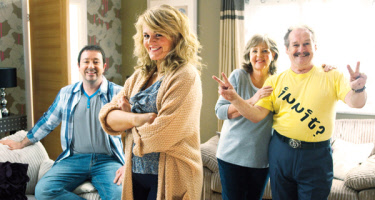 Background Info
The show is set in a suburb of Manchester focusing on the lives of a 30something couple, Lisa and Dan. Sally Lindsay plays the part of Lisa, and Daniel Riley plays the part of Dan. The strong cast includes actors such as Lisa Tarbuck, Angela Griffin and Bobby Ball.
My Review of the first episode (no spoilers)
Having seen the trailer a couple of times beforehand I wasn't expecting a huge amount from the show, the trailer didn't exactly leave me tingling with excitement, so my expectations weren't too high. By the end of the first episode, my expectations for the rest of the series are now very high!
Overall I thought the episode was brilliant and a really strong start for this new comedy. I instantly felt like I knew the characters and even at the first ad break I felt good about the program already. The humour was at times subtle, other times obvious, which worked well. The writers haven't resorted to too much toilet humour either which is pleasing as I feel this could kill it. The storyline flowed nicely throughout whilst providing good opportunities for big laughs.
Some of the acting at times was a bit suspect, and a few aspects of it felt a bit tacky, but these are minor gripes. Initially, I was unsure if a 1-hour episode was wise, but it flew by and still left me wanting to see more. They got it spot on.
General Public Reaction – Social Media
When I searched twitter the reactions from people watching was very good, below is an example of some of the tweets posted. A friend on my Facebook stream also enjoyed the show. Looks like it wasn't just me that really enjoyed the episode!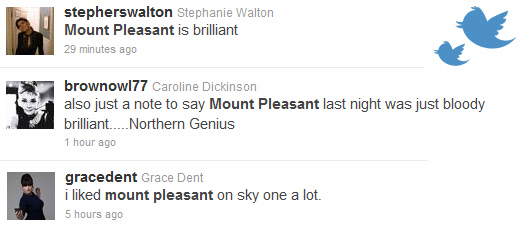 When to Watch
You can see the series on Sky1 on Wednesday nights at 9pm. If you have registered you can also watch it on SkyGo.
Overall Mount Pleasant is shaping up to be an excellent comedy. The first episode was strong so roll on the rest of the series!