Stand-up American comedian Reginald D. Hunter has taken his live tour to DVD with this release. It was recorded at the HMV Hammersmith Apollo in London.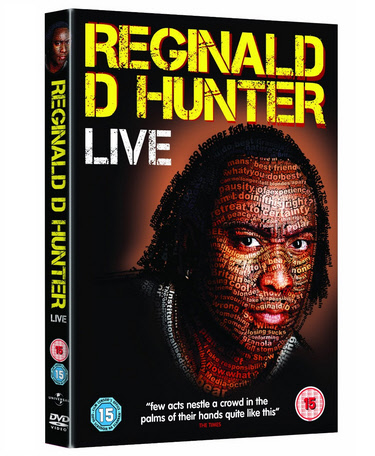 This is the first time I have seen any of this comedians solo work. So I went with an open mind, although having seen him on various TV programs I do like his uniqueness, quite a stumbley (I appreciate that is not a real word!) delivery, he's not smooth-talking but it works well. And he comes across as a nice guy. I looked forward to this.
The big man strides onto the stage and says his hellos. After only about 30 seconds of being on stage a member of the audience shouts something. It was a quality reply from Reginald which earned some major laughs, a very good start I felt.
On with the gig then as he begins his stories. Starting with race. Then continuing on with race, for what seemed like a long time. I checked the time on the DVD and I been watching for over 20minutes. I got a tad worried that was the only topic he would talk about! I expected some but perhaps not this many. However, the material was essentially quite funny, just perhaps a bit 'all at once' rather than being spread through the performance.
My worries on race proved unfounded as he moved on to some funny observations about British people, and also his own American people. He then moved on to the topic of sex, once again I felt he stayed on it too long. Funny material but the same topic gets annoying after so long. In fact, during the performance, more of his material was about sex rather than race!
His topics of choice weren't quite what I expected. Having seen him on the television before on programs such as 'Have I Got News For You' I anticipated him being more political and perhaps slightly thought-provoking whilst still being funny. Turns out he just likes to talk about black people and sex! Slightly disappointing, as I did find the Reginald D. Hunter I saw on the TV slightly funnier.
One thing I was impressed by was his willingness to say stuff that many comedians wouldn't. Some of the responses from the audience (notably the female members) were brilliant, one woman's jaw almost hit the floor at one point her mouth was so wide! However I didn't feel he was saying the things he was just to be controversial, Frankie Boyle says stuff purely to be as gross and shocking as he can, whereas I felt Reginald used the shock factor moderately and didn't overcook it. This aspect I really liked.
Conclusion
Overall I would recommend this DVD. Don't expect the Reginald you may have seen on shows like 'Have I Got News For You' though. I do wish the topics were a bit more mixed up in the gig, and he perhaps covered slightly more topics. However I did find the material he had funny, and I like the few 'gasp' moments he produced. Overall I would rate it 7/10.