Another new comedy on Sky began last night (Sept 20th 2011), this time on channel Sky Atlantic – it goes by the name of This Is Jinsy. The series kicked off with a double bill of episodes, here are my thoughts (with no spoilers).
First off a bit of background info. The cast includes appearances by big names such as David Tennant, Harry Hill, Jennifer Saunders, Catherine Tate, Simon Callow and Peter Serafinowicz. It is directed by Matt Lipsey (Psychoville, Little Britain, Saxondale).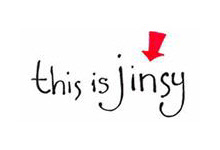 The series follows the residents of Jinsy. And in particular, Arbiter Maven and Operative Sporall who keep a close eye on everyone from the Great Tower in the parish of Veen.
My Thoughts
Only a couple of minutes in and you know this is one wacky show! Obvious comparisons will be made with the Mighty Boosh and The League of Gentlemen as the style is much the same. If you loved/hated those shows, odds are your feelings will be similar towards this.
I enjoyed both the first and second episodes. No breaking in slowly required here, straight up and running with the freakiness. Even after the first 10 minutes I loved the quirkiness. I also love the way it is produced, it is a visual treat to watch with the strong colours, outfits and effects.
I am a fan of oddball comedy, it's unpredictable, stupid but yet when it works is brilliant. And in these first two episodes they've achieved that.
The Mighty Boosh has always had a very cult following. I think this will go much the same way, whether it can replicate such success we will have to see.
Overall I thought it was great. Original, funky, funny, unpredictable and well produced this show can certainly go a long way. However, on an individual basis, if you don't like this sort of comedy – perhaps one to steer clear of.
Trailer:

What did you think to This Is Jinsy? Share your thoughts below.
Image owned by Sky.